ENAIRE has managed 52,000 more flights so far this year, a 2.9% increase
ENAIRE managed 1,852,835 flights in the first ten months of the year, an increase of almost 52,000 flights. This is a 2.9% increase, higher than the European average in the same period, which was 1.2%.
Growth is higher than the European average of 1.2%
So far this year, every traffic type has grown: overflights (those that do not depart from or arrive at a Spanish airport) numbered 397,643 (+5.8%); domestic flights, 367,287 (+4.2%), and international flights, 1,087,905 (+1.4%).
The number of flights managed by control centre was as follows: Seville, 363,224 (+5.8%); Barcelona, 863,361 (+3.5%); Madrid, 1,009,362 (+2.8%); Canary Islands, 296,009 (+1.7%); and Palma, 305,478 (+0.4%).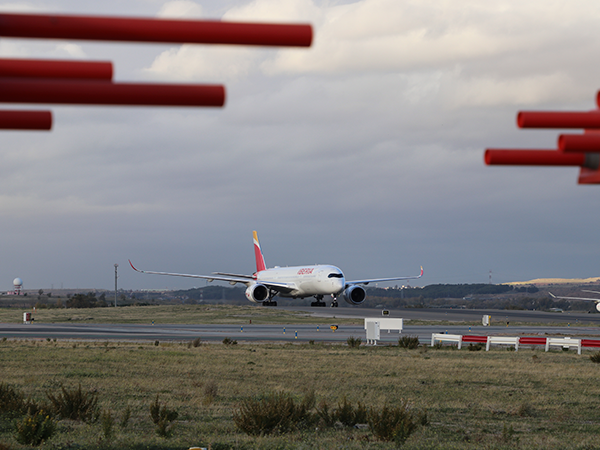 Decrease in October
ENAIRE managed 192,075 flights in October, 0.6% fewer than in October 2018. This is the first month to see a drop in traffic after six years of uninterrupted growth. Although both domestic flights (37,451) and overflights (40,789) went up 1.7%, international flights (113,835) decreased 2.2%.
The decrease affected every control centre. From lowest to highest, the traffic figures for October are as follows: Barcelona, 89,727 flights (-0.2%); Madrid, 105,314 (-0.4%); Seville, 37,829 (-1%); Palma, 31,328 (-2.8%), and the Canary Islands, 29,706 (-3.1%).
About ENAIRE
ENAIRE is the company belonging to the Public Works Department that provides air navigation services in Spain. It renders aerodrome control services at 21 airports, including the busiest in terms of air traffic, plus en-route and approach control, from five control centres: Barcelona, Madrid, Gran Canaria, Palma and Seville. In addition, ENAIRE provides communications, navigation and surveillance services to 45 air control towers.
In 2018 ENAIRE handled 2.1 million flights to and from four continents (Europe, America, Asia and Africa), transporting 300 million passengers.
ENAIRE is the fourth most important European air navigation service provider, and, in a clear commitment to the Single Sky initiative, belongs to international partnerships such as SESAR (Single European Sky ATM Research) Joint Undertaking, SESAR Deployment Manager, A6, iTEC, CANSO (Civil Air Navigation Services Organisation) and ICAO (International Civil Aviation Organization).
Descargar el documento
Communication Directorate
Number of the Department of communication +34 912 967 551
Communication department email address comunicacion@enaire.es